Orschell Excavating is owned by Kevin Orschell who has a long history in the construction and excavating field. At Orschell Excavating we pride our self on a job done right the first time. Also, we specialize in grading building pads, land clearing, driveway construction, driveway reclaim, small demolition jobs, mini excavator work, and dump truck service. Our passion for what we do shows in our work we pride our self on quality passion honesty. We are excited to meet new customer and make their dreams into a reality for them.
Orschell Excavating is located in West Harrison, Indiana. We provide professional excavating services to all the Midwest at a reasonable price. In addition, our experienced crew will finish your excavating job on time and on budget. Our services include:
Excavating
New Driveway Construction
Reclaim Old Driveway
Land Clearing
Building Pads
Demolition
Parking Lots
Fix Drainage Issues
Our fleet of quality excavators are always ready for your next project. With hundreds of satisfied clients, it is no wonder why Orschell Excavating is the premiere excavating company in Indiana. Give us a call today at 513-226-8887 or get a free quote by using our easy quote form! Either way, you will see why Orschell Excavating is the best choice for excavating services in your area!
Septic Systems Service
At Orschell Excavating, we offer complete on-site septic systems for new or older homes. Our experts can help you determine if you need a complete installation or maintenance of your septic system. In addition, we have extensive experience with installing septic systems. All of our equipment uses rubber tracks to help prevent damage or site disturbance. We always keep the job site clean and orderly.
Why should you make Orschell Excavating your only choice to install your septic system?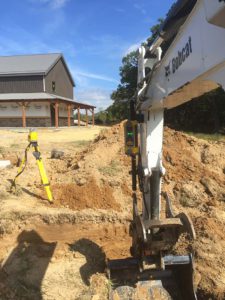 We provide quality customer service and make the whole process easy and hassle-free for you. Also, we adhere to government and health department guidelines for proper installations. An Orschell septic system is easy to maintain and has risers to make pumping much easier. Of course, our systems come with effluent filters. An effluent filter is the last line of protection to keep solids from escaping into the drain field. The effluent filter works as a great warning system which prevents septic systems from failure.
We install a wide variety of septic systems, here are few of the types we install:
Septic Tanks
Replacement Septic Tanks
Turnkey Septic Systems
Dosing Tanks
Drywell System
Drainbeds
Sand Mound System
Field Systems
Replacement Sewer Lines
---
Site Prep
For new construction site prep, we offer clearing the lot such as removing trees, stumps, and brush to help prepare the area for the house build. In addition, we can cut in a driveway and haul in gravel. Also, our services include new house basement digs, backfilling and drain tile installation. That is not all, we can also run utilities such as water, electric, gutter downspouts, septic system installations, sewer taps. finish grading the yard, and drain lines.
Excavating Services Before and Afters Gallery