Septic Systems Service
At Orschell Excavating, we offer complete on-site septic systems for new or older homes. Our experts can help you determine if you need a complete installation or maintenance of your septic system. In addition, we have extensive experience with installing septic systems. All of our equipment uses rubber tracks to help prevent damage or site disturbance. We always keep the job site clean and orderly.
Why should you make Orschell Excavating your only choice to install your septic system?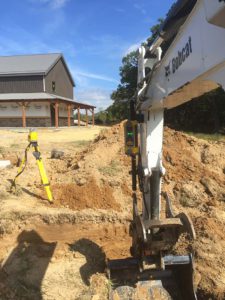 We provide quality customer service and make the whole process easy and hassle-free for you. Also, we adhere to government and health department guidelines for proper installations. An Orschell septic system is easy to maintain and has risers to make pumping much easier. Of course, our systems come with effluent filters. An effluent filter is the last line of protection to keep solids from escaping into the drain field. The effluent filter works as a great warning system which prevents septic systems from failure.
We install a wide variety of septic systems, here are few of the types we install:
Septic Tanks
Replacement Septic Tanks
Turnkey Septic Systems
Dosing Tanks
Drywell System
Drainbeds
Sand Mound System
Field Systems
Replacement Sewer Lines
---
Site Prep
For new construction site prep, we offer clearing the lot such as removing trees, stumps, and brush to help prepare the area for the house build. In addition, we can cut in a driveway and haul in gravel. Also, our services include new house basement digs, backfilling and drain tile installation. That is not all, we can also run utilities such as water, electric, gutter downspouts, septic system installations, sewer taps. finish grading the yard, and drain lines.
New Driveway Construction
On new driveway construction, we remove all topsoil get down to a solid base. then we use a dense road base for the base and top it with a finer top coat. we cut in all drainage ditches so water will not travel to the driveway.
Reclaim Your Old Driveway
On old driveway repairs we come in and grade out your driveway cut in all water ditches and drainage ways get the water flowing along the side of the driveway then we put the gravel on and grade out.
Land Clearing
When your land is overgrown we come in remove all brush and trees at customer request then we push all trees and brush in a pile and burn or haul off at customer request. After all the area is cleared we grade the land so it can be mowed.
Building Pads
We come in shoot grade establish the high of the building floor then cut out the top soil and put in dirt and compact in lifts if pad needs to come up. Make sure all water is running away from building pad. them we put down base at customers request.
Demolition
At Orschell Excavating, we do small demolition jobs houses, barns, buildings. Also, we take down structure haul it off then grade out the lot.
Parking Lots
Here at Orschell, we shoot grades to see how much needs to come out or put in then we cut out all top soils. Compact the ground put down mesh if that what customer wants to put down a road base and compact it top coat shoot grades to make sure all water is flowing to the drains.
Fix Drainage Issues
A lot of house have drainage issues water coming towards the house which causes issues with leaking basements always wet around the house. we redirect the water flow away from the house and in some instances, we will have to install drain tile to solve the problem.
Concrete Service
Did you know Orschell Excavating also offers concrete services? We offer services such as driveways, sidewalks, barn floors, driveway aprons and more! Contact us today for more information on our concrete services.
Finally, for a quote on any of these excavating services, please click here. One of our specialists will contact you about your project.