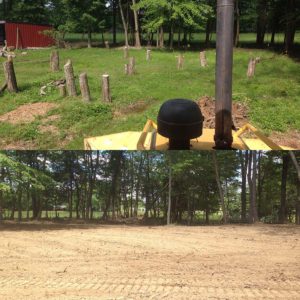 Are you looking for the right company in Lawrenceburg to provide land clearing service? Land clearing is the process of removing vegetation, tree stumps and trees for the landowner. There are numerous reasons for land clearing such as for farmland, building area, parking lot or new driveway.
Our equipment is built to handle any size clearing you need. There are some factors to consider when getting land clearing or debris removal services in Lawrenceburg.
Land Clearing Costs and Factors
The first major factor is the overall area you are having cleared. Of course, the bigger the area the more the cost. Also, the cost is usually based on the overall square footage.  The next factor is how much debris actually needs to be hauled away. Depending on what is going to be hauled away can affect the price.
Access for heavy machinery is the next factor. The job cannot get done if equipment cannot make it to the area. In some cases, temporary roads and access ways need to be made. Another factor would be the need for demolition of buildings or structures. Removing structures instead of just vegetation are something to consider.  The final step is to consider proper permits for the job. Our experts can help you get the proper permits from the city for your job.
Lawrenceburg and Surrounding Cities
Orschell Excavating has been providing Lawrenceburg Indiana with excavating services for decades. In addition to Lawrenceburg, we service cities such as West Harrison, and cities in Kentucky and Ohio. We have provided debris removal and land clearing services to the whole area. Are insured and experienced crew can have your excavating job done quickly and easily. Give us a call today at 513-226-8887 or request a quote today!
Finally, take a look at some of the recent projects and see why Orschell Excavating is the premiere excavating service!