Are you looking for a great excavating company in Indiana for your next project? Do you need a septic install, lot cleared, drive-way graveled or other excavating services?  Look no further than the experts at Orschell Excavating.
Our experienced crew has been handling excavating projects all over Indiana at great prices. When looking for excavating Indiana, Orschell Excavating should be your first choice!
Excavating Contractors In Indiana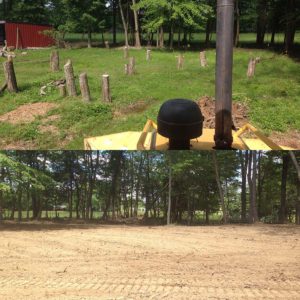 Located in West Harrison, Orschell Excavating has been an Indiana native for decades and we know the area. We can be on site and working in no time and save you the hassle that other excavating companies may give you.  Also, we provide a plethora of excavating services. Services such as:
New Driveway Construction
Reclaim Your Old Driveway
Land Clearing
Building Pads
Demolition
Parking Lots
Fix Drainage
And More!
In addition to West Harrison, we have handled excavating projects in Guilford, Brookville, Sunman, Moors Hill, Indiana just to name a few. Also, we have done excavating jobs in Ohio as well as Kentucky.  Do not try and install a septic system yourself, hire the professionals at Orschell Excavating. We can handle everything you need for your new septic system.
Building pads are essential to help establish the height of the building floor to help make sure water runs away from the pad. At Orschell we can build any type of building pad you need for your next structure.
Do you need a new driveway for your new home? We can clear and lay gravel for your new driveway or relay an existing one. We stand by our work and strive for full customer satisfaction. Use our easy quote form today.  If you are not sure what services you need, give us a call today at 513-226-8887 or use our contact form and we will respond shortly. When it comes to excavating in Indiana, the best choice is Orschell Excavating Contractors.